BMW Gearboxes For All Models For Sale
The gearbox on your car is one of the most important parts. It's what gets power from the engine to the wheels, and if it goes out then you're stuck in a very bad place.
But finding a good replacement automatic or manual gearbox can be difficult because there are so many options out there. You have to find one that fits your needs and budget, but also works with your vehicle make and model.
Our company has an extensive selection of transmissions for sale at competitive prices that come straight from our local scrap yard! We've been in business for several years now, so we know how to do this right! If you don't see exactly what you want here then feel free to contact us; we'll get back to you as soon as possible with more information about other vehicles or brands available too!
If you're in the market for a new transmission, our company has what it takes. We have an extensive selection of transmissions with varying gearbox numbers that are available on almost every vehicle make and model! So if your car doesn't come up under "Select Vehicle Type" then don't hesitate to get in touch!
About Gearboxes
​Types Of Gearboxes & Their Pros And Cons
In both motor vehicles and machinery, a gearbox is a mechanical system consisting of gears housed in a casing. It generally consists of two or more gear sets that can be meshed together to change the speed ratio between the input and output shafts. The term gearbox can refer to several different things:
Motor vehicle transmission
A transmission in machinery, etc
When it refers to motor vehicles or machinery, the term gearbox refers to a driving system with one input shaft and more than four output shafts. It is also called an epicyclic gear train, which you can verify by noting that each of the two gears will have at least one other gear meshing with it. Sometimes, there is more than just one pair of gears; there might be three or even four pairs of gears meshing with each other in very complex arrangements. There are several types of gearboxes: manual transmissions, automatic transmissions, constant mesh gearboxes (CMG), helical geared differentials, etc.
Manual Transmission box
The most basic gearbox form is the manual transmission, which allows for gear changes to be performed manually by the driver. It consists of one input from the engine's output shaft and more than four combined outputs to allow forward or reverse motion. The main components consist of an input drum where rotational power is received in drive train assemblies, which carry much of the load; a set of gears in mesh with this drum called 'the sun' – it meshes with another set of gears called 'planet' gears. Another rotating element meshes with these planet gears via different stages of meshing gears called 'ring' and 'spider', respectively. Within the planetary system are also clutches that will engage some aspects within at given times depending on the gearbox.
Manual Transmission Advantages
It is cheap to manufacture and easy to maintain compared to other types of gearboxes. The components are relatively simple, making their upkeep affordable and quick. This means that manual transmissions are reliable, unlike automatic transmissions, which can be costly if regular maintenance is not carried out.
The design lends itself well to various applications in both cars and machines because it has an extensive ratio range about its size, allowing for small or narrow vehicles with high speeds. In addition, this ease of application may mean that manual transmission units have been retained on some models despite the move towards automated units due to their lower costs or greater durability/ruggedness.
Manual Transmission Disadvantages
The driver must shift gears manually, which can be tedious, especially in cars or machines that travel at higher speeds or have a lot of power (i.e., trucks). It requires more concentration on the driver, not only on whether they are correctly shifting gears but also on choosing the correct gear for any given situation on the road.
Because manual transmissions need to be shifted by hand, they are often seen as less safe than automatic transmissions because drivers usually remove one or both hands off the steering wheel when shifting gears. Most accidents that involve unintended acceleration are due to drivers trying to change between first and reverse while their foot is on the accelerator pedal, which is directly related to driving safety and whether or not a driver's hands are on the steering wheel.
Automatic transmissions
An automatic transmission uses an oil pump to provide pressure (vacuum during deceleration) to activate clutches throughout the gearbox allowing for smooth shifting between gears without any need for driver-controlled manipulations. There are no less than five different types of automatic transmissions: the torque converter (TC), hydraulic, hydramatic (a type of fluid coupling), multi-speed (internal gearing), and computerized controlled and semi-automatic. Each has its own set of pros and cons regarding cost, efficiency, durability/ruggedness, etc. that will be discussed later in this article.
Automatics Advantages
The driver is relieved of the task of shifting gears manually. In addition, modern designs can detect when a change in speed or load requires a grade change from one gear to another and automatically select the appropriate gear for optimum performance. This means lower effort on behalf of the driver because they have less to do while driving, especially at higher speeds where they should focus more attention on other aspects related to safe driving.
Automatic transmissions are usually more energy-efficient than manual transmissions for two reasons: They have typically had more excellent torque multiplication factors (the ratio between engine speed and output shaft speed multiplied by the number of forwarding gears), which lead to faster operation at any given rate and this also means that less energy is lost due to wind resistance.
Automatic gearboxes tend to last much longer than manual transmissions because they do not require the driver to shift gears manually, resulting in added strain on transmission components (i.e., gears, bearings).
Automatic Gearbox Disadvantages
Automatic transmissions are more expensive than manual gearboxes to manufacture and maintain. This higher cost is reflected in the purchase price of a vehicle equipped with an automatic transmission instead of a manual transmission. It makes repairs and replacement difficult for nonprofessionals or individuals without specific knowledge and tools about automatics. However, these issues can be mitigated by well-designed that use metal rather than cased with rubber.
Automatic transmissions are not as fuel-efficient as manual transmissions because they do not allow the engine to run at its most efficient speeds for any given road speed (i.e., RPMs), which means that an automatic-equipped car will need more energy than a car with a manual to reach the same destination.
Final Thoughts
In conclusion, it is always best to have a thorough knowledge of the different types of gearboxes and their associated pros and cons so you can make more informed decisions on whether or not to buy a particular vehicle based on its type of transmission. While some individuals prefer automatic transmissions due to added comfort while driving at higher speeds, others prioritize the fuel efficiency of manual transmissions over anything else.
We hope that this article has helped answer your burning questions about gearboxes and their associated pros and cons!
We Deliver BMW Parts in South Africa!
We take great care in ensuring that your salvage parts are delivered with the utmost professionalism and courtesy. Our couriers make sure they have a positive customer experience from start to finish, which reflects on us as well!
Sell Your BMW For Parts!
We provide a quick and easy service for those looking to scrap their non-running BMW's. With over 20 years of experience in auto salvage, you can rest assured that your car will be processed professionally and efficiently by us!
You Are In Safe Hands!
With a team of automotive experts, BM Scrap Yard provides its customers with only the best BMW auto parts in South Africa. With quick delivery times & easy access for anyone who needs it, there's no reason not to find the part you need!
BMW Vehicles Stripping For Spares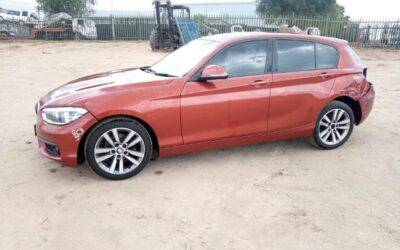 This BMW is accident damaged and being stripped for its spare parts. If you would like to buy a specific component of this BMW model, please email us through our contact us page. A,/,C,Compressor,Pulley Front,Left,Brake,Caliper Front,Left,Door,Window,Regulator,Motor...