Used BMW 2 Series F45 Spares For Sale
Looking for a BMW 2 Series F45 stripping for spares?
FIND YOUR PARTS
Used BMW 2 Series F45 Parts For Sale
BMW is a world-renowned manufacturer of luxury automobiles, and the 2 Series F45 is one of its most popular models. Unfortunately, accidents happen, and when they do, the costs of repairs can be astronomical.
Fortunately, BM Scrap Yard can help. We pride ourselves on being one of the leading suppliers of BMW parts in South Africa, and we specialize in accident damaged vehicles. As a result, we are able to provide high-quality BMW F45 parts at a fraction of the cost of new parts.
So whether you're looking for a replacement engine or simply some new body panels, we can help you find the parts you need. And because we deal directly with our suppliers, we are able to offer competitive prices. So don't overpay for BMW parts – contact BM Scrap Yard today.
Quality of our used BMW parts
At BM Scrap Yard, we only use the highest quality parts for our clients' BMW F45s. We source our parts from accident damaged vehicles and thoroughly clean and test each one before putting it on the shelf in our warehouse. This ensures that your BMW F45 will be running like new in no time.
In addition, we offer a wide selection of BMW F45 parts so you can find the perfect match for your car. And because we source our parts from accident damaged vehicles, we can offer them at a fraction of the cost of buying new parts from the dealership. So if you're looking for the best BMW F45 parts at the best price, look no further than BM Scrap Yard.
Recent 2 Series F45 Part Requests
| Date | vehicle-year | | Requirements |
| --- | --- | --- | --- |
About the 2 Series F45
About The BMW 2 Series F44
Related:
We Deliver BMW Parts in South Africa!
We take great care in ensuring that your salvage parts are delivered with the utmost professionalism and courtesy. Our couriers make sure they have a positive customer experience from start to finish, which reflects on us as well!
Sell Your BMW For Parts!
We provide a quick and easy service for those looking to scrap their non-running BMW's. With over 20 years of experience in auto salvage, you can rest assured that your car will be processed professionally and efficiently by us!
You Are In Safe Hands!
With a team of automotive experts, BM Scrap Yard provides its customers with only the best BMW auto parts in South Africa. With quick delivery times & easy access for anyone who needs it, there's no reason not to find the part you need!
BMW Vehicles Stripping For Spares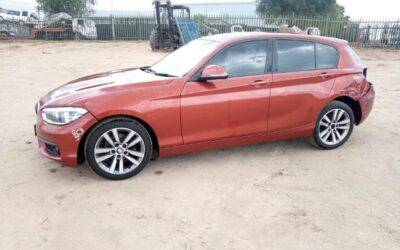 This BMW is accident damaged and being stripped for its spare parts. If you would like to buy a specific component of this BMW model, please email us through our contact us page. A,/,C,Compressor,Pulley Front,Left,Brake,Caliper Front,Left,Door,Window,Regulator,Motor...