All Models of BMW Engines Are Available For Sale.
Take a look at the used and imported engines we have available in our inventory. For a fraction of the price, several of our BMW engines have been imported from overseas and are in very good condition. We take great pride in selling high-quality, low-priced used engines.
The list of engines and their codes are shown below. Those aren't all of our items; we acquire new ones every month. Enter the engine number and your contact details into the component request form if you want to know whether we have a specific engine in stock.
Requests for estimates from BMW scrap yards may be submitted at any time. Even if you don't see your motor listed here, please don't hesitate to contact us.
Info on BMW Engines
About BMW Engines
BMW powertrains have a long service life. The German company produces high-quality engines with well-thought design and good reliability.
In the late 2000s, BMW began to produce more economical gasoline engines by reducing turbocharging pressure and switching to direct fuel injection. In this case, an overhaul is advisable after 200 thousand km of driving.
New BMW engines are distinguished by a compact design and low noise level. These motors can efficiently use low-octane gas without requiring an oil change.
BMW updated its engine series in 2016 with new four-cylinder petrol and diesel units of 12-14 litres. Cooling system, pistons and crankshaft, intake and exhaust manifolds became more economical. Also, the improved amount of air going through the cylinders reduces losses in the exhaust system.
In addition to ICEs, BMW has hybrid powertrains with a two-cylinder gasoline engine or a lithium-ion battery. The petrol motor is built into the transmission block. The electric motor turns the crankshaft.
The BMW hybrid powertrains are reliable and easy to service. However, their design complexity demands special care in working with them. Most of these units consist of more than 100 parts, twice more than traditional ICE powertrains.
Decoding of BMW engine markings
The identifier is between the engine serial number and the drives axle code.
Engine type & transmission The first two digits of the designation indicate the type of motor . For example, petrol engines are designated with an "M" prefix. Diesel powertrains have the letter "D". If your vehicle has a manual gearbox, there is no additional letter. Luxury cars usually have four-wheel drive or rear-wheel drive. If you see the letters "x", it means that your vehicle is equipped with all-wheel drive. Displacement (litres) can be found after the engine type identifier. To decode this data, note how many zeros are in front of this figure: for example, if you see a number "3.0", it means that the engine block capacity is 3.0 litres. If there are no zeros, the displacement is less than one litre. As a rule, compact and economy cars have 1.5-1.8 litres displacements.
In most cases, this figure is not indicated on the car body or in any other places, except for some luxury vehicles from Audi, BMW and Mercedes-Benz. Turbocharger A turbocharger increases engine power by increasing airflow through the engine. If your motor is equipped with a turbocharger, it will be designated as follows: if you see a letter "T" after displacement – your car has a naturally aspirated engine. If there is no letter "T" after displacement – your car is equipped with a turbocharged powertrain.
We Deliver BMW Parts in South Africa!
We take great care in ensuring that your salvage parts are delivered with the utmost professionalism and courtesy. Our couriers make sure they have a positive customer experience from start to finish, which reflects on us as well!
Sell Your BMW For Parts!
We provide a quick and easy service for those looking to scrap their non-running BMW's. With over 20 years of experience in auto salvage, you can rest assured that your car will be processed professionally and efficiently by us!
You Are In Safe Hands!
With a team of automotive experts, BM Scrap Yard provides its customers with only the best BMW auto parts in South Africa. With quick delivery times & easy access for anyone who needs it, there's no reason not to find the part you need!
BMW's Stripping For Spares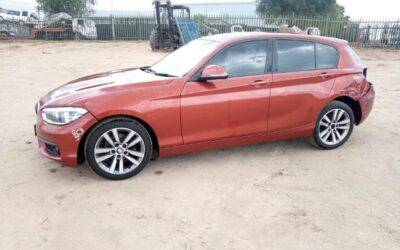 This BMW is accident damaged and being stripped for its spare parts. If you would like to buy a specific component of this BMW model, please email us through our contact us page. A,/,C,Compressor,Pulley Front,Left,Brake,Caliper Front,Left,Door,Window,Regulator,Motor...